1. I am sending two big projects off into the universe this weekend and then I am going to Maine for two days to drink beer and wear Sorel boots like God intended. Quick, low-key, local-ish trips where you don't feel pressure to do a bunch of things are my absolute favorite and I have been looking forward to this one for weeks and weeks.
2. It's Valentine's Day this weekend! I know it's not cool to like Valentine's Day, but GUESS WHAT, I have literally never been cool, why start now. Candy! Flowers! Michael Bolton songs! This Expedia commercial which I think is freaking genius!
3. The usual good-things-type suspects: American Crime Story, Elizabeth Gilbert's The Signature of all Things on audio, and improbably but deliciously, Pioneer Woman's baked lemon pasta.
4. You guys, MTV is putting a TV show based on 99 DAYS into development! I believe my feelings on television are well-documented (but just in case: I LOVE TELEVISION IT IS VERY IMPORTANT TO ME), so this one feels like a big deal. Plus I feel like I am one step closer to achieving my literal fondest dream of someone writing dirty fanfiction of characters I invented!
5. Speaking of television (a-and dirty fanfiction? What? Who said that?) this is a thing that happened: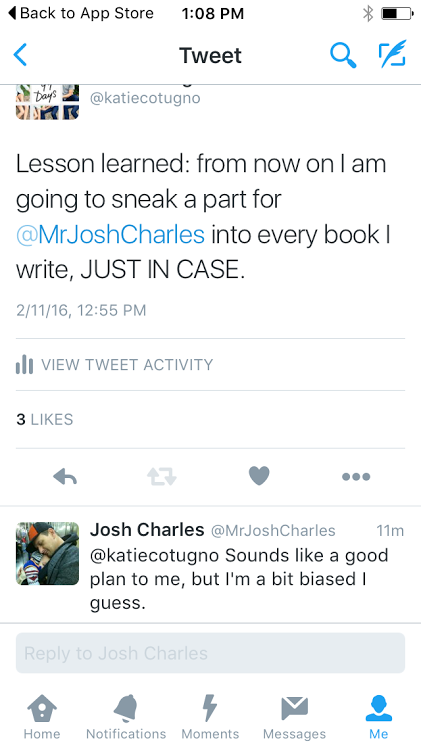 Whaaaaaaat. Love you. Bye.